Port Macquarie Pubs, Clubs & Bars
Finnian's Tavern
We strive to deliver outstanding customer service, delicious meals and an enjoyable atmosphere to each one of our valued customers.
At Finnian's Tavern, we place a modern twist on the classic Irish tavern. Not only do we prepare a full menu of traditional Irish food, but our location also features live entertainment, unbeatable specials and much more.
Excellent food at pub prices.
Live music Friday & Saturday
Trivia Thursday night
Lunch 12.00pm-2.00pm Dinner 6pm-9pm Open 7 days
Address: 97 Gordon St, Port Macquarie
Telephone: 02 6583 4646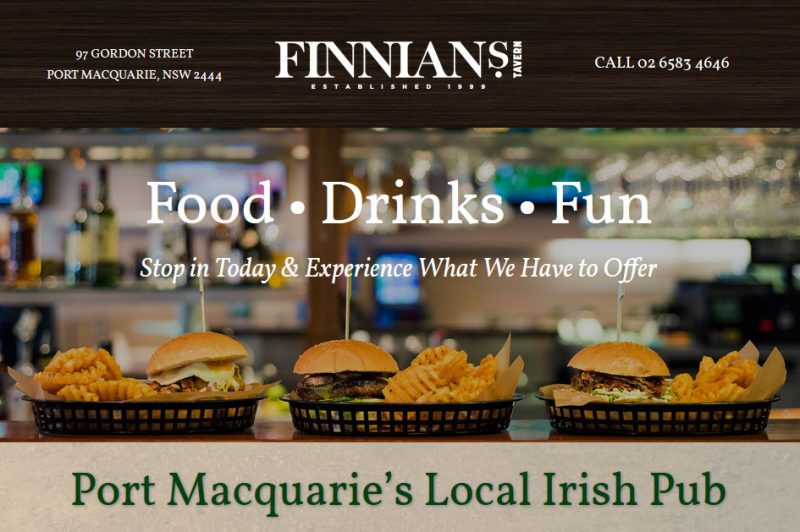 Port City Bowling Club
Port City Bowling Club is your perfect destination for:-
FUN * Bowls * Bingo * Keno * TAB * Poker * Darts * Meat Raffles
FOOD Club Buffet Family Restaurant for the best value meal in town.
FRIENDSHIP Enjoy a relaxing beverage with family and friends in the Main Lounge, Non Thinkers Bar, Southern Deck or Western Deck.
Address: 4 Owen St, Port Macquarie
Telephone: 02 6583 1133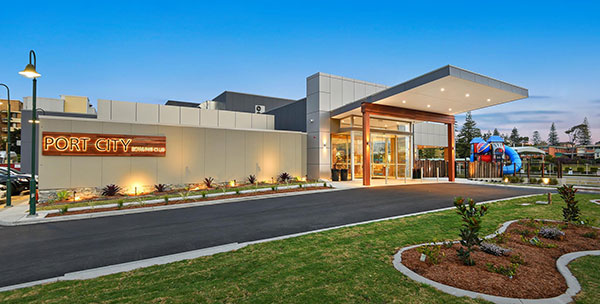 Crescent Head Country Club
Crescent Head Country Club have a unique golf course with magnificent views of the ocean, a fantastic synthetic bowling green (especially loved by the pros as well as new bowlers having a game for fun), two tennis courts situated nicely with picturesque views of the greens and a great Pro, where you can hire the equipment to enjoy the game of your choice.
In the Club itself, you will find a relaxed atmosphere, great service and great food!! We have two eateries, a Club Bistro for scrumptious modern Australian cuisine and Vick's Chinese Restaurant for a delicious and exotic Asian cuisine.
Address: 1 Rankine St, Crescent Head
Telephone: 02 6566 0268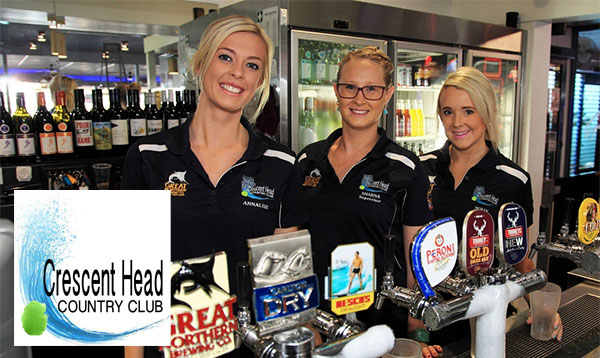 Port Macquarie Panthers 
Address: 1 Bay St, Port Macquarie
Telephone : 02 6580 2300
The Westport Club
Address: Buller St, Port Macquarie
Telephone: 02 6583 1499
Town Green Inn
Address: 4 Horton St, Port Macquarie
Telephone: 02 6580 7899
The Duck on Clarence
Address: 72 Clarence St, Port Macquarie
Telephone : 02 6584 2451
Blue Water Bar & Restaurant
Address: Ocean St, Port Macquarie
Telephone: 02 6583 5730
The Beach House

Address: 1 Horton St, Port Macquarie
Telephone: 02 6584 6011
Zebu Bar + Grill
Address: 1 Hay St, Port Macquarie
Telephone : 02 6589 2888